Frequently Asked Questions
If you can't find an answer to your question here, please contact me. I'll usually get back to you within one business day, and there's a good chance I'll add your question (and my answer) to this page!
How do long-term services like website management and coaching work?
After we determine which long-term services you need, I'll provide you with a service contract. The first month of services is considered a trial period. After that, either party is required to give a 30-day notice to cancel services. We'll schedule a designated day of the week for your services, and your tasks will be completed each week on that day. For website management, all work is tracked in a project log, which you'll receive each month so you can review completed tasks and progress of projects.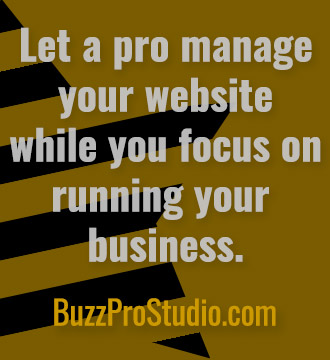 What payment options do you offer?
Preferred method of payment is PayPal. You can use PayPal to pay by credit card or to transfer funds from your bank account. Checks are also acceptable; however, checks that are issued as deposits must be received, deposited, and cleared before the project commences.
How do deposits and payments work? In fact, how does the whole process work?
First, you provide contact information and a project description. Then I'll send you a quote and service agreement. Your quote will include rates and a timeline. Work will commence once you have accepted the quote and agreed to the work agreement. To accept the quote, you'll need to issue a deposit. Once your project is completed, your final balance will be due within two weeks. Revisions, if requested, will take place after final project completion and do not affect the final payment due date.
I just requested a quote. How long will it take?
You will usually hear back from me within one business day.
How long will it take you to complete my project?
Project timelines vary depending on the size and scope of the project. Once you've provided your project details, you will receive a quote that includes a timeline. Please inquire about expedited services if you need a faster turnaround.
What are your business days and holidays?
Business days are Monday through Friday. Buzz Pro Studio recognizes the following holidays (these are non-business days):
New Year's Day – January 1
Presidents' Day – Third Monday in February
Memorial Day – Last Monday in May
Independence Day (U.S.) – July 4th
Labor Day – First Monday in September
Veterans' Day – November 11
Thanksgiving Day and Friday following (fourth Thursday of November and the following day)
Christmas Eve through Christmas Day – December 24-25
How soon can you start working on my project?
Normally, I start working on a project 3-5 days after the deposit has been received or after the work agreement has been accepted. In some cases, work may begin sooner. I schedule all projects and I stick to the schedule. Your quote will specify your project start date and include a timeline to help you determine when the project will be completed.
Are you willing to work as part of a team?
Yes, I would be happy to work as part of a team. In fact, I'd enjoy that very much!
Are you available for in-person meetings?
All business is conducted online or over the phone. However, please feel free to inquire if you are interested in requesting an in-person meeting. While this is not my standard practice, I will certainly consider it.
What if I want to discuss my project by phone?
Most phone calls will be billed as consultations. Phone consultations are available in 15-minute increments and must be scheduled in advance. Once your project is underway, phone consults may be included as part of the services rendered, at no extra charge; for example, we may need to have a live conversation to iron out details of your project.
What is your confidentiality or privacy policy?
I do not share or distribute any information about my clients. I reserve the right to publish a list of clients and work rendered in the context of a portfolio as a way to demonstrate my experience and expertise. If any of my clients do not want to be included on a published client list or if they do not want their project used in a portfolio, they may send a request in writing, via email, and I will oblige. 
Who owns the material if I've paid you to create it?
Ownership of the material I create transfers to the client when final payment is received. If the final payment does not clear or is revoked, then ownership remains with or transfers back to me. Images, graphics, and copy provided to Buzz Pro Studio by the client never falls under my ownership. Over the course of your project, I may license stock images on your behalf. The rules of ownership for these images are outlined by the stock photo vendors.
Will you manage my website once you've finished building it?
Yes, I offer a number of different website management services that include basic maintenance, performance monitoring, and content development.
What if I'm not satisfied with your work? Do you offer guarantees or refunds?
You will be satisfied with my work. I ask that all first-time clients review three to five samples from my portfolio before accepting a quote or signing a work agreement. If you like what you see in my portfolio, then you will be pleased with the work I do for you as well.
Let's Get Started
Use this form to contact me and tell me about your business and your project. 
Need something for your site that you don't see here? Let me know how I can help you. 
If you know exactly what you want and are ready to get started, then request a free, no-obligation quote now.